The TurfBreed Board
The TurfBreed Board is a group of dedicated and well respected growers, agronomists, industry consultants and business managers. All with years of experience in helping to grow businesses within the agriculture sector. The boards aim is work with our growers to build safe, profitable and sustainable businesses.
Sandy Bauman
ChairMAN
TurfBreed's Chair Sandy Bauman has built a reputation for being an agriculture dealmaker with entrepreneurial experience throughout the value chain – from the field to the boardroom. He has run successful grain growing enterprises in central Queensland, was founding shareholder and Chair of PentAG – a grain marketing company, Director of FarmInvest Australia as well as Haven Grain Pty Ltd, and now jointly owns Australian Lawn Concepts in southern Queensland. In 2018, Sandy was appointed as TurfBreed Chair so he could bring his turf industry experience and expertise in governance and business development to the table.
Steve Burt
Managing Director
Steve Burt is co-founder and Managing Director of TurfBreed and has more than 30 years' experience in agribusiness, including roles at both a board and senior management level.Steve's previous track record sees him having successfully managed, business organisation start-ups, mergers and acquisitions, capital raisings, commercial operation, risk and oversight of businesses with multi-billion-dollar turnovers. From this cross section of experience, Steve maintains an extensive network across the Australian and Global Agribusiness sector where he has been integral in developing businesses and finding solutions for numerous agricultural and business ventures. Steve's vision for TurfBreed is to be the turf industry genetics manager of choice through partnering with turf growers to grow their business safely, sustainably and profitability through leading edge genetics, innovative marketing and business support.
PH: 0419 007 398 Email: sburt@turfbreed.com.au
Malcolm Finlayson
Director & CFO
MBA, B Bus, MAICD and is a CPA. He has formerly been a Chief Financial Officer for a number of business and now consults in finance to the broader agricultural industry. He is a director of Grain Trade Australia Ltd, Plant Health Australia Ltd, Wheat Quality Australia Ltd, Finesse Solutions Pty ltd, Theodore Water Pty Ltd and LMA Support Services Pty Ltd. He is a director and shareholder of TurfBreed and is the CFO.
JOHN Keleher
Director
John is one of the country's leading turf agronomists and has worked extensively as an agricultural consultant for most of his career. He has a solid history of introducing innovative ideas that positively impact the bottom line. John's devotion to research has provided the opportunity for new and exciting practices in Australia's turf industry, such as precision farming for growers. John was recently appointed to the Board of Trustees for Turf Producers International and is Managing Director for both Australian Lawn Concepts and Glenview Turf.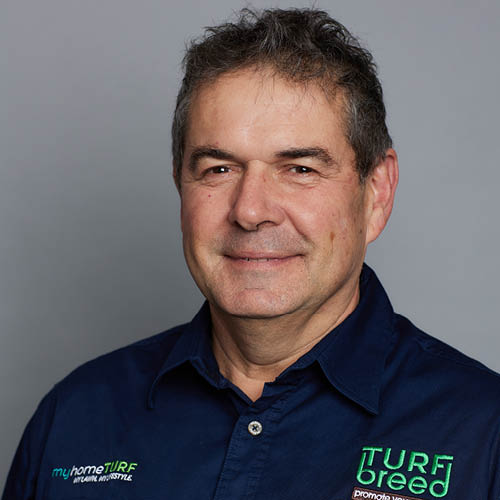 Stuart Richardson
DIRECTOR
With 28 years' experience in the agricultural sector, Stuart has developed a wealth of knowledge encompassing business management, establishing start-ups, wealth creation and risk management. Having held several international roles, and managing one of the largest agribusiness trading entities in Australia, Stuart can draw on an extensive breadth of knowledge. Stuart currently sits as director of Monthill Commodities Pty Ltd, Farm Invest Pty Ltd and holds an MBA from the University of Melbourne.