AT A GLANCE
Growers: Australian Seed and Turf 
Manager, Paul Bardsley
Property: Learmonth Road, Carrum Downs, Victoria
Focus: Superior turf for Australia's best golf courses
Market: Commercial, trade and retail sales of Santa Ana Couch, Kenda Kikuyu, Matilda Buffalo, Prestige Buffalo, Bent Grass, Fine Fescue and Tall Fescue
By Sandra Godwin
After a childhood spent living on golf courses, Paul Bardsley was never going to look for an office job. His father, Chris Bardsley, was a golf course superintendent for 44-years and Paul lived with him on the Centenary Park golf course until he was 20.
"I've been in turf forever," Paul said. "It was all there in front of me, ready to do. It was a no brainer."
After being given the choice of going to school or work, Paul leapt at the chance to start his apprenticeship at the age of 15.
Once qualified, he began working under the guidance of Tony Sinclair, who has been involved in the Turf Industry for 40 years and operates the turf installation business – Turf Renovations Australia.
Tony is also a major shareholder in Australian Seed and Turf, which started in 2008 with the purchase of an existing turf farm at Carrum Downs, 30 kilometres southeast of Melbourne.
They'd been buying turf from other farms for projects and seized the opportunity to bring turf production in house.
Paul stepped-up to the role of operations manager at the 90-hectare farm three years ago.
The major variety grown at the farm is Santa Ana Couch, which is preferred by the Melbourne sandbelt golf courses and sports field markets that account for up to half their sales.
Australian Seed and Turf also sells turf to landscapers, builders and direct to homeowners across the city, southern and northern suburbs and the Mornington Peninsula.
The most popular varieties among residential buyers have been Kenda Kikuyu for sites with full sun, and Buffalo for partially shaded environments.
"Conditions always determine which variety is chosen," Paul said.
"If it was a full shade area, we wouldn't send Kikuyu there because we know it struggles."
Residential development is booming in the suburbs surrounding the Carrum Downs farm as Melbourne continues to grow by more than 300 people a day. But Paul says he's seen no evidence that being local makes a difference when people buy turf.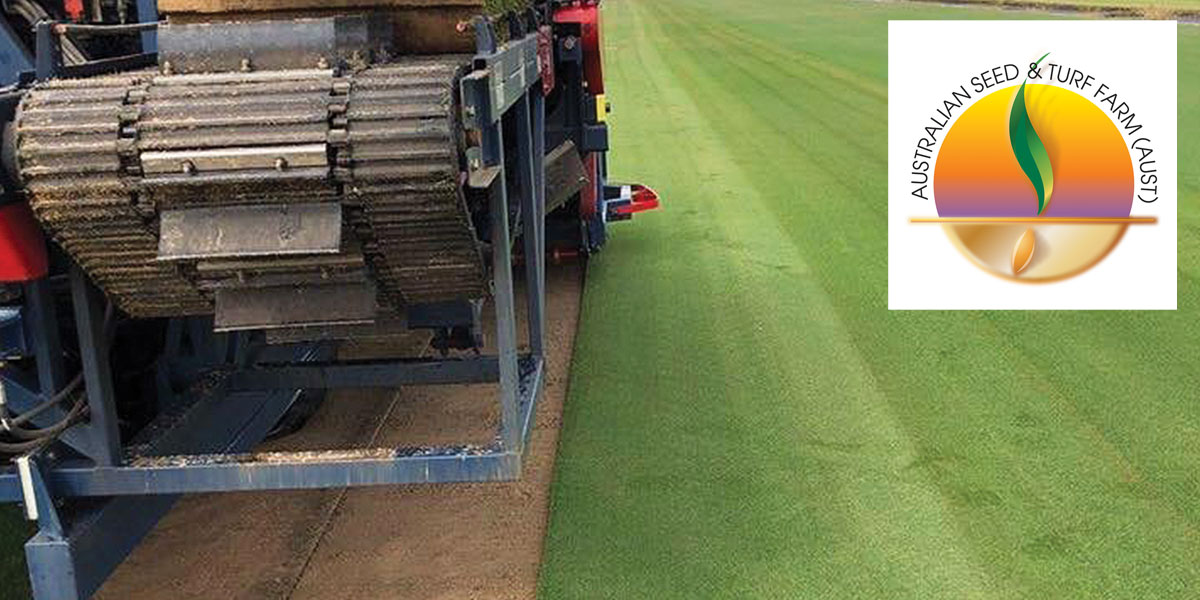 Paul said demand had been steady and they'd sold out of all varieties during each of the past four or five years.
"They'll just Google what they want and contact whoever comes up in the search," he said. "We're competing mostly against the Lawn Solutions Australia network of growers who market very well. But we're probably more competitive on price – which gets us a lot of attention."
Turf is cut to order the previous day or on the same day as it is delivered or collected and there's no such thing as an off-season.
"We cut year-round," Paul said. "The busiest time for orders is early October. After the AFL Grand Final weekend everyone starts getting out and looking at their gardens."
Australian Seed and Turf employs 10 permanent full-time employees, three in the office, and an extra five casual staff during peak periods.
They have three covered wagon trucks on the road, using rigid 12 pallet trucks with trailing forklifts on the back so turf can be delivered into city locations where a semi-trailer wouldn't fit.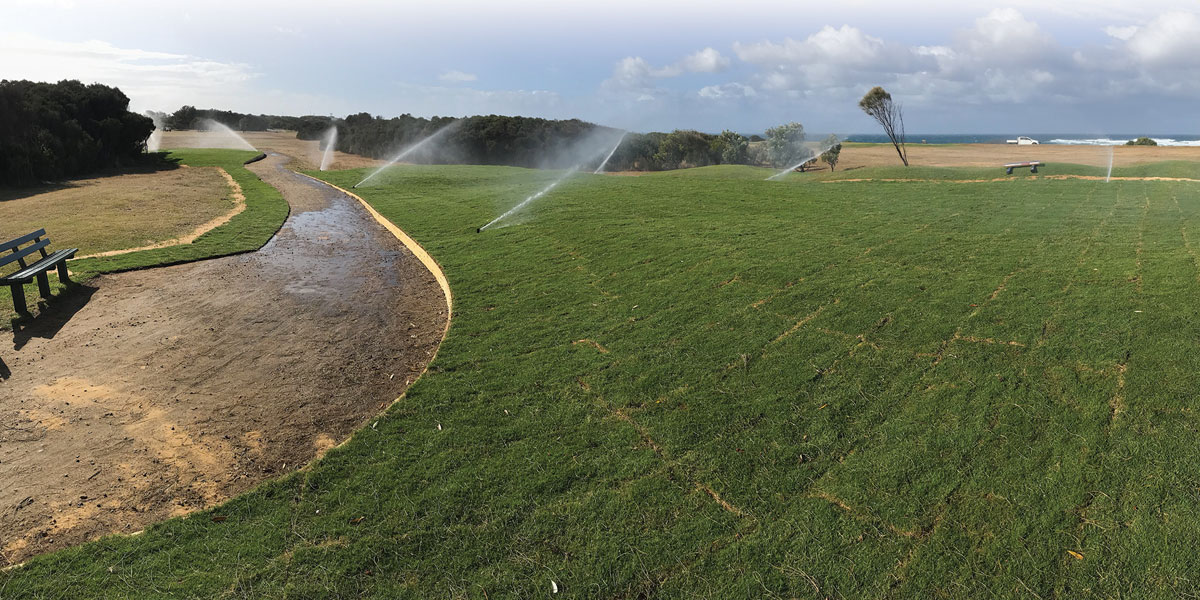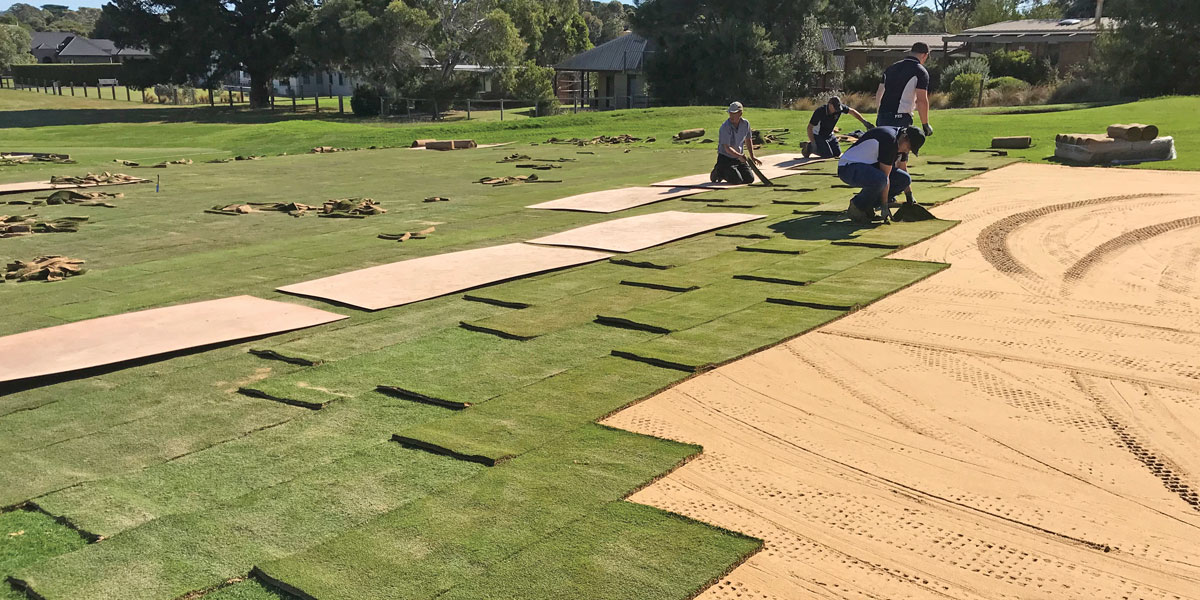 "We come from a golf course background so we're producing superior turf," he said. "Our main focus is the commercial side – whether it be golf courses or sports grounds and racecourses – not the domestic market."
Paul said demand had been steady and they'd sold out of all varieties during each of the past four or five years.
"We're now out of stock until spring, which is why we're expanding," Paul said.
Work is underway to prepare another 30ha's for the first plantings of Prestige Buffalo and more Kenda Kikuyu and Tall Fescue.
The plan is to cultivate and level the paddocks, install a pop-up sprinkler irrigation system and plant the new area by November, giving it a full growing season before the first rolls are cut. Most of the turf from that area will be sold into the domestic market.
Paul said they had chosen Prestige Buffalo after conducting research and speaking to other turf growers, especially those along the Murray River between Victoria and New South Wales.
"They get a lot of frost, which we don't get as much, but the colour difference between Prestige and the other Buffalo varieties really stood-out to us," he said. "It held its colour better and it was a darker green for longer."
As part of the expansion, Paul visited the United States in July to look at bigger machinery that would "make life easier" and allow the business to start supplying maxi rolls of up to 30 square metres (m2).
Turf is currently harvested using two Brouwer auto stackers and two older hand stackers that produce 1m2 rolls.
While turf producers in other regions have struggled with drought and high-water prices, Paul said they were fortunate to have access to a steady supply of Class A recycled water.
The water is piped directly from Melbourne Water's Eastern Treatment Plant at Bangholme, just a few hundred metres to the north of the farm. It is delivered under enough pressure to move around the irrigation system without the need for expensive pumps. The cost? About $110 a megalitre this year.
"It's about 50 per cent more than last year, but it's still cheap," Paul said.
The soils are mostly a darker sandy loam. Sand has been imported onto paddocks growing Bent Grass and Fescue to match the specifications of golf courses.
That, says Paul, is their point-of-difference.
"We come from a golf course background so we're producing superior turf," he said. "Our main focus is the commercial side – whether it be golf courses or sports grounds and racecourses – not the domestic market. We also do a lot of consignment growing for golf courses."
Paul said their biggest jobs to date had been for golf courses and the Royal Melbourne Golf Club*, at Black Rock, had been a client for the past 10 years.
Paul said he always looked forward to watching big golf tournaments on television.
"To see that on TV – the product you grow – on a world class stage, that's pretty satisfying," he said. "There's a lot of things I don't like about turf, including the weather, but that end result? I get a lot of satisfaction out of it."
So, Paul will be glued to the screen in December, when Royal Melbourne hosts the prestigious Presidents Cup for the third time.
While the crowds cheer on the teams led by Tiger Woods and Ernie Els, Paul will be paying close attention to how well the tees, fairways and putting greens stand up to all that traffic.
*Royal Melbourne is ranked Number 1 golf course in Australia and Number 5 in the World.