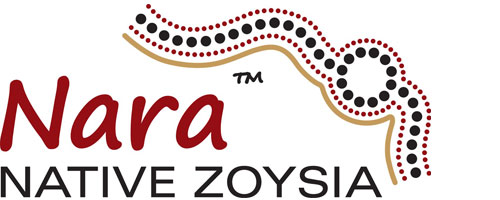 Australian born and bred
Nara Native Zoysia™  is the Number 1 Aussie native choice for lower maintenance, high drought tolerance, weed resistance and salt and wear resilience.
Botanical Name: Zoysia macrantha.
PBR: MAC03.
FAST FACTS
Medium shade tolerance
Very high drought tolerance
Very low maintenance – less watering, mowing and fertiliser
High wear tolerance
Fine leaf textured making it soft under foot
Excellent winter colour
High salt tolerance
Great at out-competing weeds
Natural resistance to bugs and insects
Produces low seed head (common irritant to people with allergies)
KEY FEATURES

MAC03 (Nara Native Zoysia) is recognised by the Australian Cultivar Registration Authority (ACRA) as being an Australian native grass.
Nara Native Zoysia™ is a fast-establishing native grass that is low maintenance, has a high tolerance to salt, fungal and pest incidence.
Nara Native Zoysia™ will need about 20% less mowing than Buffalo, 35% less than Couch and 55% less than Kikuyu.
Nara Native Zoysia™ shows superior attributes that makes it a hardy choice of turf that stands-up to Australia's harsh conditions.
Nara Native Zoysia™ is specified for road works and soil erosion control, as it performs extremely well in wet areas.
Nara Native Zoysia™ can survive on natural rainfall and has been seen to endure long periods of non-maintenance.
When well-maintained Nara Native Zoysia™ looks lush and holds colour throughout the seasons.
When left to its own devices, Nara Native Zoysia™ saves on long-term mowing, pesticides, de-thatching and fertilisers.
Nara Native Zoysia™ meets the Erosion Control Australian Standard No# AS5181: 2017
Use and installation of turf as an erosion, nutrient and sediment control measure.